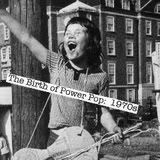 [EDIT February 4, 2011]Hey There unsuspecting visitor! If you are just now discovering this blog via this page, please make sure you visit all of my most recent
Power Pop Posts!
in addition to all of the initial
Birth of Power Pop posts!
Have fun digging around in my archives and please leave me a comment or better yet click that "Follow" button down there somewhere below and to the right, thanks![End of EDIT]
In keeping with my 2010 compilation schedule, I'll be posting my playlists every Friday (or Thursday night, really) in February. Today's featured compilation is an oldie, but a goodie. I originally put this together in the Spring of '07 and passed out copies to many of my friends. I actually gave that out in a data disc format, and did not realize until much later, that the track listing on the data disc did not match the track listing that I had meticulously sequenced. I've given this out on several occasions since as one giant zip file, but this was before I knew how to zip music files properly so that the listener would get my files in the right order. So finally, I have broken this up into three separate zip files, and they are in the order that I intended. Whew. Above is the artwork that I made for the original hard copies and below is a slightly edited version of the original liner notes.
The Birth of Power Pop: 1970s
"Power pop for me was [music made by] musicians that were born in the 50s, grew up in the 60s and started playing music in the 70s. [Our] idea of music was melodic songs and cool clothes."-- Paul Collins (of the Nerves, Breakaways and Paul Collins' Beat)
While power pop had its roots in the 60s with bands like the Beatles, Byrds, and Beach Boys, it really came into its own during the "Me Decade." Indeed, this is power pop's golden age. There are a lot of great songs to choose from, so narrowing it down to 60 songs is a pretty daunting task (I mean you could make a case for the inclusion of every single song on
#1 Record
). I did not want to just reproduce any of the myriad of power pop compilations out there, although some overlap is inevitable and I did cherry pick some obscure comps. In particular, the folks at Rhino Records have put out five outstanding compact discs that cover much the same ground as my new collection. Those discs are the four volumes in the DIY series (American Power Pop I & II, UK Pop I & II) and Poptopia! Power Pop Classics of the '70s. You probably already have those, and if not you should seek them out. While I have used many of the same artists, I have not used any of the same songs as those genre-defining compilations (with one exception). Some of the songs on this compilation will be quite familiar to you, but hopefully there will be a few that are totally new to you, or, at the very least, some that you may have forgotten. I've sequenced the songs in an order that made sense to me sonically as opposed to a strict chronological order. Which reminds me, some of these songs have been remastered recently, others have not, so stay close to the volume dial!
Happy Listening,
Track by track Commentary:
Birth of Power Pop - Disc One
01. The Records, "Teenarama" (1979).
I find it hard to believe that a band with a name as great as "The Records" and a propensity for writing insanely catchy pop songs didn't make a bigger splash commercially. And yet . . .
02. Grin, "White Lies" (1972).
Nils Lofgren is probably best known for his exploits in the E-Street Band or for his work with Neil Young, but he also served as the leader of this underappreciated pop band in the early 70s.
03. Kirsty MacColl, "They Don't Know" (1979).
One of two songs on this compilation that was later a hit for another artist. Kirsty wrote it, and it was her first single for Stiff Records.
04. Elvis Costello, "No Action" (1978).
This song kicks off Costello's second long player. He once quipped, "You have your whole life to write your first album and six months to write the second." I think it turned out all right for him.
05. Off Broadway, "New Little Girl" (1979).
Hailing from Oak Park, Illinois, Off Broadway was sort of Cheap Trick's not quite as talented little brother. Still, Cliff Johnson wrote quite a few memorable songs, most of which can be found on their 1979 debut, On.
06. The Toms, "Let's Be Friends Again" (1979).
The Toms is actually New Jersey's Tom Marolda—he plays pretty much everything on his home recordings.
07. The Raspberries, "I Wanna Be With You" (1972).
One of the biggest "hits" on this compilation (made it to #16 on Billboard's singles chart). I have become increasingly convinced that the Raspberries were America's answer to the Beatles.
08. Greg Kihn, "Any Other Woman" (1976).
Greg Kihn eventually became the most famous of a very talented stable of artists on the Berserkley record label. This is from his self-titled debut, which was about five years before he became a household name.
09. Luxury, "Green Hearts" (1979).
It begins with jangly guitars and handclaps. It has a melody that gets stuck in your head the first time you hear it. You'll be singing along with the chorus the second time through. These guys were, believe it or not, from Iowa.
10. The Knack, "That's What the Little Girls Do" (1979).
Power pop connoisseurs generally either revere the Knack as power pop gods or disdain them as corporate hacks taking advantage of popular trends. I'm sort of on the fence. I never really loved "My Sharona," but I do think there are some genuine pop gems on Get the Knack—especially this one.
11. Television, "Careful" (1978).
My favorite song from Television's more polished, second LP, and it also has one of my favorite guitar solos of all time. It starts at about the 2:20 mark with some faint handclaps and ends 22 glorious (not pretentious) seconds later. Stunning.
12. The Last, "She Don't Know Why I'm Here" (1979).
Released on Bomp! Records in 1979, L.A. Explosion! does not get the credit it deserves. Anyone who swears by Chris Wilson-era Flamin' Groovies (and I certainly do!), should give this a spin.
13. The Only Ones, "No Solution" (1979).
Peter Perrett should have enjoyed the kind of career that say, Paul Weller or Nick Lowe had. Unfortunately, he had some serious drug problems, which kept him from making music for much of the 80s. Subsequently, he's been relegated to footnote status.
14. Squeeze, "Slightly Drunk" (1979).
Shaking off any pretension of being a punk rock band, Squeeze embraced the pop on their second, and arguably best, record (Cool For Cats).
15. Dwight Twilley Band, "Chance to Get Away" (1977).
This is from my favorite Dwight Twilley album, Twilley Don't Mind. Phil Seymour hadn't left the band yet, and their collaborative powers were at their peak.
16. Brinsley Schwartz, (What's So Funny 'Bout) Peace, Love and Understanding" (1974).
The original, Nick Lowe sung version of the song made popular by Elvis Costello in the early 80s.
17. The Kids, "Hey Little Girl" (c. 1979).
These San Antonio power poppers only released one 10-inch vinyl record, Pop 'n' Roll. If you happen to find one, snag it.
18. Joe Jackson, "One More Time" (1978).
Is there anyone else on the planet that can write a song about romantic disappointment as biting and as self-deprecating as Joe Jackson?
19. The Cars, "Got a Lot on My Head" (1979).
The Cars' Greg Hawkes gives the Farfisa a new wave update on this should've been a hit from their second album.
20. The Mumps, "Crocodile Tears" (1977).
Perhaps influenced more by the eccentricities of Sparks than by the traditional pop leanings of the Beatles, "Crocodile Tears," complete with hand claps and harmonies, is a power pop classic nonetheless.
Total Time: 1:00:02
Download it here:
Birth of Power Pop - Disc One
Birth of Power Pop - Disc Two
21. Blondie, "Sunday Girl" (1978).
There are at least two power pop classics on Blondie's Parallel Lines. The first, of course, was the Jack Lee penned "Hangin' on the Telephone." The second is this Chris Stein penned homage to the girl-group sound.
22. Nervus Rex, "Don't Look" (1978).
One of the few power pop bands of the 1970s that utilized boy-girl harmonies. I just wish Lauren Agnelli's vocals were a bit higher in the mix. They were a second tier New York, CBGB's band.
23. The Real Kids, "My Baby's Book" (1977).
John Felice grew up next door to Jonathan Richman and, at age 15, was an original member of the Modern Lovers! His tenure was short-lived, and he formed the categorically more raucous Real Kids. Their self-titled debut from 1977, is a Rock'n'roll classic.
24. 20/20, "Giving it All" (1978).
Another transplanted Tulsa, Oklahoma band that made their mark in L.A. (the other being the Dwight Twilley Band). This song actually pre-dates 20/20's excellent major label output on Epic Records and was released as a single on Bomp! Records.
25. Big Star, "When My Baby's Beside Me" (1972).
As I alluded to in the intro, how do you pick a Big Star song for this kind of compilation? Well, I used a very scientific approach: this comp needed some tambourine!
26. Dave Edmunds, "Never Been in Love" (1978).
This is from the first album Dave Edmunds did with Rockpile—showcasing the American roots-rock side of the power pop spectrum—not too shabby for a Welshman.
27. Todd Rundgren, "Long Flowing Robe" (1971).
Few people put together a body of work during the 70s as formidable as Todd Rundgren. Whether it was his introspective and sometimes experimental solo records, the prog-pop leanings of Utopia, or his tireless work as a producer and sound engineer, Todd Rundgren was the 70s.
28. Cheap Trick, "Come On, Come On" (1977).
Tom Werman gets a lot of flack for his production on In Color, but I think he did an excellent job in showcasing the infectious melodies Rick Nielson and Tom Peterson were so good at writing. This song has some guts.
29. The Jam, "It's Too Bad" (1978).
T.S. Elliot is credited with saying: "Good artists borrow, great artists steal." Paul Weller certainly stole the guitar riff in this song from the Beatles' "She Loves You"—to magnificent effect.
30. Tom Petty, "Listen to Her Heart" (1978).
Within power pop circles, Tom Petty doesn't get mentioned that often. That could be because he's often played on "Classic Rock" radio. Whatever. I would put "American Girl" near the top of any list of great power pop songs, and this song wouldn't be far behind!
31. The Diodes, "Red Rubber Ball" (1978).
This is a Paul Simon composition, which had seen chart success in 1965 when Cyrkle took a decidedly wimpier version of it up to #2 on Billboard. The Diodes, a first-wave Canadian punk band, gave this pop ditty some power.
32. Chris Bell, "I Got Kinda Lost" (c. 1978).
It's hard to believe that other than the "I Am the Cosmos" single, Chris Bell's non-Big Star output was kept in the vaults until 1992. This song should have been blaring out of every car radio in the late 70s!
33. The Flamin' Groovies, "Yes It's True" (1976).
My favorite song from my favorite power pop record of all-time: Shake Some Action.
34. The Go-Betweens, "Lee Remick" (1978).
The first single by one of Australia's finest pop bands.
35. The Ramones, "Don't Come Close" (1978).
Yes, the Ramones are better known for almost single-handedly inventing punk rock, but at the core of each and every song by these New York rockers is a consummate melodic sensibility.
36. The Boys, "Taking on the World" (1978).
While their first album (The Boys, 1977) ranks as one of the finest examples of British punk rock, their second album (Alternative Chartbusters, 1978) is widely revered as a power pop masterpiece. I think this particular track straddles the line between punk and power pop nicely.
37. The Poppees, "Love of the Loved" (1975).
If this sounds Beatle-esque, it's because it is a Lennon-McCartney song that the Beatles never released. These anglophiles were, believe it or not, part of the early CBGB's scene.
38. Shoes, "Like I Told You" (c. 1978).
This song, which was recorded at some point after their official debut, Black Vinyl Shoes (1977) and before their major label debut, Tongue Twister (1979), is a classic example of Shoes' pop.
39. The Rubinoos, "Jennifer" (1977).
In an era when a tough guy image was everything, I don't think this Berkley quartet, who graced the pages of several teen magazines, were ever taken seriously by the masses—Despite the fact that the New York Rocker called their debut "the best pop album of the decade."
40. The Scruffs, "You're No Fun" (1977).
If this sounds a bit like Big Star, that might be because Stephen Burns was from Memphis or, more probably, because it was recorded at Ardent Studios.
Total Time: 55:11
Download it here:
Birth of Power Pop - Disc Two
Birth of Power Pop - Disc Three
41. Earth Quake, "Julie Anne" (1977).
There are essentially two eras in Earth Quake's career. They released two unexceptional hard rock albums for A&M in 1971 and 1972. Both albums tanked, and they went back to San Francisco where they retooled their sound and started one of the most influential labels in the history of power pop, Berserkley Records.
42. Marbles, "Red Light" (1976).
Not to be confused with the British, 60s psyche-pop band or Robert Schneider's (of Apples in Stereo) side project. These Marbles released the "Red Light" 7-inch on the legendary, NYC indie-label, Ork Records.
43. The Motors, "Soul Redeemer" (1978).
Another first wave U.K. band that was quick to adopt a more pop-friendly direction on their second album.
44. The Nerves, "Give Me Some Time" (1976).
Given that they only produced one self-released, four-song EP, the Nerves made quite an impact on power pop. This was the second Jack Lee penned song on that landmark recording—"Hangin' on the Telephone" being the other.
45. The Rumour, "Emotional Traffic" (1979).
This British band is probably more famous for its role as a backing band (Graham Parker, Elvis Costello, Nick Lowe and Dave Edmunds among others) then for its three long players from 1977-1980. This song is aching to be covered, minus the new wave gloss.
46. The Barracudas, "Neighbourhood Girls" (1979).
The greatest surf band in the history of the U.K.! This was a prelude to the heights they would achieve on 1981's Drop Out With the Barracudas.
47. The Undertones, "Wrong Way" (1979).
Feargal Sharkey's voice didn't lend itself to harmonies, but that was okay—the O'Neill brothers (John and Damian) could sing like birds. They were also the main songwriters in this seminal Irish pop band.
48. Badfinger, "Baby Blue" (1971).
Written by Pete Ham, this song has the greatest bridge in all of Rock'n'Roll. Seamless.
49. Sneakers, "Love's Like a Cuban Crisis" (1976).
From their legendary debut EP, this has all the hallmarks of a great Chris Stamey composition: jangly, chiming guitars (check), sing-along chorus (check), lyrical ingenuity (check) and slightly off-kilter, melodic sensibility (check).
50. Emitt Rhodes, "Fresh as a Daisy" (1970).
Better known for his work in the Merry-Go-Round, Emitt Rhodes (who was from Hawthorne, CA, btw) wrote, played and recorded everything on his fabulous solo debut. This McCartney-like single nearly cracked the Top 40.
51. The Hitmen, "Didn't Tell the Man" (1979).
Johnny Kannis and Chris Masuak, both alumni of the legendary Australian punk rock outfit Radio Birdman, formed this band after a Radio Birdman European tour with the Flamin' Groovies.
52. The Tourists, "Blind Among the Flowers" (1979).
More famous for being the band Dave Stewart and Annie Lennox were in before the Eurythmics, the Tourists were a more guitar-oriented pop group led by the group's main songwriter, Pete Coombes. This was their first single.
53. The Romantics, "First in Line" (1978).
The flipside of the Romantics' second single, "Tell it to Carrie" on Bomp! Records. They were still a couple of years away from the major label success of "What I Like About You."
[PLEASE NOTE: I JUST REALIZED AS I WAS DOING A PLAYBACK, THAT TRACK #54 AND TRACK #55 ARE REVERSED. THE FILE IS LABELED WRONG AND SHOULD READ AS FOLLOWS]
54. Alice Cooper, "Caught in a Dream" (1971).
The lead track from the first Bob Ezrin produced Alice Cooper album, Love it to Death. While most Alice Cooper songs have a grittier sound than this, Michael Bruce (Cooper's original guitarist) wrote a classic rock'n'roll tune here that could easily be described as power pop.
55. The Vibrators, "Whips & Furs" (1977).
From their stunning debut, Pure Mania. While it is usually grouped with the punk classics of 1977, stylistically, this album was all over the rock'n'roll map.
56. Spitballs, "Way Over There" (1978).
This is a fairly faithful cover of an early Berry Gordy/Smokey Robinson tune. The Spitballs were actually not a real band, it was made up of various members on the Berserkely label who got together and produced a pretty good covers album.
57. Paul Collins' Beat, "Rock N Roll Girl" (1979).
Paul Collins studied composition at Julliard and played drums for the Nerves. I wonder which influenced him the most?
58. The Breakaways, "One Way Ticket" (ca. 1978).
Just after the Nerves split up, Peter Case and Paul Collins formed this short-lived band to get Collins out from behind the drum kit. This was a Peter Case penned number, which is slightly different then the version they recorded in the Nerves.
59. The Dickies, "Fan Mail" (1979).
Mixing humor and art has always been a difficult task but the Dickies were certainly able to pull it off. Bonus points for rhyming "paraphernalia" and "regalia."
60. Blue Ash, "I Remember a Time" (1973).
Ohio's answer to the Raspberries, although they weren't quite Teenbeat pin-ups. Blue Ash put out two exceptional power pop albums in the 70s: equal parts Beatles and Byrds.
Total Time: 53:14
Download it here:
Birth of Power Pop - Disc Three
[EDIT June 6, 2011]There have been some problems with some of the tracks not unzipping properly, and eventually I will change the links, but for now I know people are having problems with this one:
Disc 1, track #11:
Television, "Careful" (1978).
If you run across any problems, please feel free to let me know in the comments and I'll try to fix it ASAP![END OF EDIT]