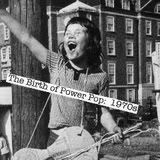 Just a few quick words and on to Disc Six.
Here are the final twenty-two tracks in my Birth of Power Pop series. Of all the volumes, this one might be my favorite, probably because it is mostly made up of songs that are relatively new to me. Many of which have not been widely available in a really long time. All of these songs are over thirty years old, and I hope people will be listening to them thirty years from now. Judging by the response to this blog, I think at least some of us will be! I hope you've enjoyed the series as much as I've enjoyed making it. Perhaps next February I'll tackle the Eighties!
Happy Listening!
Birth of Power Pop: The 1970s (Revisited) – Disc Six
Track by Track Commentary:
01. The Now, "What's Her Name" (1979).
I don't think The Now's first (and only) album has ever been released on compact disc. It really is a lost, New Wave, Power Pop classic. They were from the Big Apple.
02. Bread, "Down on My Knees" (1972).
Bread is usually remembered as a bit of second rate Eagles, with a penchant for sappy love songs. What is lost in this revisionist history, is the fact that they really could craft a pop song, and some times flexed their muscles, as they do on this track from arguably their best, if a bit clumsily titled, album:
Baby I'm a Want You
.
03. Scientists, "Frantic Romantic" (1979).
If someone were to write the history of Australian Rock & Roll,
Kim Salmon
would probably take up a few chapters all on his own. This is the A-side, of the first single released by the Scientists. It does not foreshadow the noisier stuff the band would become better known for producing. Instead, it looks back to the garage-pop of the great Australian band, the Easybeats.
04. Roy Loney & the Phantom Movers, "Born To Be Your Fool" (1979).
The other half of the original Flamin' Groovies' writing team, Roy Loney produced a fine roots rock effort with more than a nod to Power Pop on his first post-Groovies album,
Out After Dark
.
05. Colin Blunstone, "I Want Some More" (1972).
Colin Blunstone has one of the most recognizable voices in Rock & Roll. Best known as the voice of the Zombies, his first two solo albums are also well worth tracking down.
06. Blue, "Someone" (1973).
I've only had the self-titled album by Blue for a little over a month (it was recently reissued by
NCORPS.EU
), but it is quickly making it's way into my favorite albums of all time. Fantastic Power Pop from Scotland.
07. The Paley Brothers, "Stick With Me Baby" (1978).
One record is all we got from Boston's the Paley Brothers, and it is notoriously hard to find on compact disc. Their best-known song,
"Come Out and Play"
, is a well known classic of the genre, and the one featured here should be.
08. Van Duren, "This Love Inside" (1977).
According to AMG, Van Duren auditioned for Big Star right around the time of that band's demise, and later played in a band called The Baker Street Regulars in the Memphis area with Jody Stephens and Chris Bell, before producing his first album,
Are You Serious?
in 1977.
09. Rick Springfield, "On the Other Side" (1974).
RS had quite a career Down Under before he made it big in America. This track is culled from the soundtrack to a Kids' cartoon called
Mission Magic
, which featured Springfield. A little bubble gum, but that's not always a bad thing.
10. The Pop, "Walk in the Rain" (1977).
Correct me if I'm wrong, but I don't think L.A.'s The Pop have ever been given the compact disc treatment—at least not domestically. Another cryin' shame. I've added them to the list.
11. Klaatu, "California Jam" (1976).
How in the world could pop fans have been duped by the insinuation that Klaatu's debut was actually the Beatles?
There are certainly some nice Beatle-isms going on here: well-crafted songs, with soaring harmonies (this track in particular), but in a blind taste test, I can't believe anyone would think it was the Fab Four.
12. The Moondogs, "She's Nineteen" (1979).
This is the A-side of the debut single from Northern Ireland's the Moondogs, who were kind of like the Undertones' modish, younger brothers.
13. Badfinger (Tom Evans), "Believe Me" (1970).
Now
this
brilliant Tom Evans penned Badfinger track could easily be mistaken as a Beatles' song.
14. The Cowsills, "On My Side" (1971).
The band which inspired the 70s TV show, The Partridge Family. By the 70s, the Cowsills were trying to break free of their bubble gum image, into more of a folk rock, Byrds-like outfit—to great effect.
15. Poptarts, "Jealousy" (1979).
The very last track selected for my BoPP series, as I was looking for some more female artists to showcase. Allow me to explain: I only just recently discovered the Poptarts, thanks to a line in Carl Cafarelli's essay, "The History of Power Pop", featured in John Borack's book, Shake Some Action: The Ultimate Power Pop Guide. Here's the line: "I submit to you that the world's first avowed all-female power pop group was the Poptarts, a still-unknown quintet that formed in Syracuse, New York in 1978." I was intrigued. A quick
Google search, led me to a website and an email address
. A few pleasant email exchanges quickly transpired, and I sent my money order off to Syracuse. What I got back for my measly fifteen bucks, is quite a Power Pop relic. "Jealousy" is just the tip of the proverial iceberg. I urge all of you to contact Gael Sweeney and snatch up your copy before they are all gone!
16. The Flashcubes, "She's Not the Girl Anymore" (1979).
If I were to rank the greatest Power Pop songs ever recorded, Gary Frenay's "It's You Tonight" featured on the
original Yellow Pills compilation
, would be at or near the top. This song is nearly as good. The Flashcubes were also from Syracuse.
17. Fast Cars, "The Kids Just Wanna Dance" (1979).
Power Pop from Manchester, this song was written using the Fast Cars' fans as the muse.
18. Excel, "If It Rains" (1979).
The title track from a four-song, self-released EP by these Yorkshire Power Poppers. One more single for Polydor followed in 1980, before the original band broke up.
19. Bram Tchaikovsky, "Sarah Smiles" (1979).
Although I've known the fabulous "Girl of My Dreams" for what seems like forever, I hadn't ever listened to any long players by BT until last summer. A buddy mentioned that he couldn't believe
Strange Man, Changed Man
didn't make Borack's top 200, nor did it make the fan's response
Shake Some Action Revisited
. It is indeed worthy.
20. B-Girls, "'b'-Side" (1978).
The flip side of the B-Girls debut single for Bomp!, "Fun at the Beach", and a nice little anthem.
21. Gary Charlson, "Not the Way It Seems" (1978).
Kansas City's Gary Charlson was part of the amazingly talented stable of artist on
Titan Records!
Pretty much everything he recorded is worth a listen.
22. Artful Dodger, "Scream" [Single Version] (1976).
From AD's second, more hard-rock influenced album, Honor Among Thieves. This is a nice little Power Pop ballad, and a fitting end to my BoPP series.
Total Time: 1:05:28
Download it here:
The Birth of Power Pop: The 1970s (Revisited) - Disc Six
Find Discs 1, 2 & 3 here:
Birth of Power Pop - Discs 1, 2 & 3
Find Disc 4 here:
Birth of Power Pop - Disc 4
Find Disc 5 here:
Birth of Power Pop - Disc 5