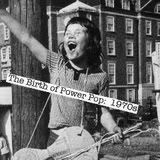 Just a reminder, your chance to influence one (or more) of the upcoming posts during Burn and Shine's Power Pop Month is quickly coming to an end. The poll closes tomorrow (I think), so vote for your favorite Power Pop state or country. As I type this, Scotland is narrowly in the lead, and I can't believe California hasn't received a single vote yet. Remember if you vote for "other" let me know who you think deserves an entry. Thanks.
Happy Listening!
Birth of Power Pop: The 1970s (Revisited) – Disc Five
Track by Track Commentary:
01. Richard Lloyd, "Misty Eyes" (1979).
I picked a Television song on Disc One of the BoPP series, but as you well know, that band isn't usually grouped in with the Power Pop genre. Alchemy, Richard Lloyd's first post-Television album, on the other hand is Power Pop through and through.
02. NRBQ, "I Want You Bad" (1978).
Ira Kaplan (of Yo La Tengo) picked this as his favorite American Power Pop song, and it's hard to argue.
03. The Shirts, "Laugh and Walk Away" (1979).
The Shirts were part of the New York CBGB's scene, and they even landed a major label deal with Capitol Records. They never managed much more than a small cult following outside of NY, but there are definitely some gems on all three of their records, their first self-titled LP, is a bit of an underrated classic from Punk's first generation, this track is from their glossier second effort, Street Light Shine.
04. Nick Lowe, "Born a Woman" (1977).
From Nick Lowe's EP, Bowi—the title was a play on David Bowie having recently released an album titled Low—this is a tremendous, and gutsy cover of
Sandy Posey's "Born a Woman" (written by Martha Sharp)
. Utterly fantastic.
05. The Quick, "No No Girl" [Mercury Demo Version] (1976).
I went back and forth on whether to use the
album version of this song
on Mondo Decco, or this Mercury demo. In the end, the spoken word part of the LP version, kind of turned me against it. The Quick were from L.A. and straddled the punk/glam/hard rock line of Power Pop.
06. The Searchers,"This Kind of Love Affair" (1979).
Formed in 1957 in Liverpool, as a skiffle group (no I'm not talking about that group), the Searchers had an odd career. Part of the original British Invasion, the band had a half dozen songs reach the Top Forty from 1964-65 in the U.S., and three #1's in the U.K. Perhaps because they relied on outside writers, they sort of fizzled out in 1965, only to come back as part of the Power Pop class of 1979 on Sire.
07. The Boys [Nebraska], "Hold Me" (1978).
Not to be confused with the British Punk-Pop band featured on Disc Two of the BoPP, these good'ole Boys were from Nebraska and recorded for the now legendary, Titan Records.
08. The Fans, "Give Me That Look In Your Eye" [7" Version] (1979).
Dear gawd, this band from Bristol, England, released two monumental Power Pop singles
(check this one out, from 1980!)
, got picked up by a major, but internal tensions concerning the direction of the band caused them to split. So sad.
09. Stories, "I'm Coming Home" (1972).
As promised, here is the second track featuring Michael Brown's brilliant song-writing from the Stories self-titled debut. On their subsequent release, they would have a #1 smash hit, with
"Brother Louie"
.
10. Racey, "Lay Your Love On Me" (1979).
This was a fairly big hit in the U.K. but did not make a dent in the U.S. charts. It's the kind of song that makes you want to sing along the first time through. Maybe a little kitschy, but fun nonetheless.
11. Circus, "Feels So Right" (1973).
From the self-tilted (and only) album by Circus, which was locally released in the Cleveland area. This is truly an under-appreciated Power Pop gem of an album in desperate need of wider recognition.
12. Yachts, "Look Back in Love (Not in Anger)" (1978).
Another great band from Liverpool, originally signed to Stiff Records. Yachts also rode Elvis Costello's coattails over to Radar for a couple of long players well worth hearing.
13. The Cryers, "(It's Gonna Be) A Heartbreaker" (1978).
The best Power Pop band to come from Meridian, Mississippi? I think so. If you've only heard the fantastic track, "Shake it Up (Ain't it Time)" which was featured on the DiY American Power Pop II compilation, you need to track down this record.
14. Piper, "Telephone Relation" (1976).
This is from Piper's first, self-titled album, which was produced by Lenny Kaye. It has a harder edge than the track used by Rhino in the DiY compilation, "Can't Wait", and more closely resembles the direction Billy Squier would mine to ridiculous, mainstream success in the 80s. Great song.
15. Radio Stars, "Is It Really Necessary" (1977).
Another super group, made up of members of John's Children, Jet and Sparks, Radio Stars were, of course, grouped in with the first wave of Punk, but as this song demonstrates, they had a firm grasp on the Pop.
16. Jules and the Polar Bears, "Good Reason" (1979).
Jules Shear is a journeyman of sorts in the Pop world. He's been putting out records since 1976 under several monikers: The Funky Kings, Jules and the Polar Bears, his own name, and Wreckless Sleepers (with the Cars' Elliot Easton). He continues to put out critically acclaimed records, but his Power Pop apex was definitely this 1979 album, Phonetics.
17. David Werner, "Can't Imagine" (1979).
I don't know much about David Werner. His website, mentions that he was 17 when he released his first more glam influenced album, Whizz Kid (1975), which made him 21 when this one came out. By this time he had embraced the New Wave and ended up recording a classic Power Pop album.
18. The Distractions, "Doesn't Bother Me" (1979).
Manchester's Distractions, put out one pretty good long player in 1980, Nobody's Perfect. This is from the EP that preceded it, "You're Not Going Out Dressed Like That".
19. The Atlantics, "When You're Young" (1979).
Another great Power Pop nugget from Boston. The Atlantics only put out one album, Big City Rock (1979), which features this track, and a few regional singles, most notably the incendiary
"Lonelyhearts"
in 1980.
20. The Headboys, "The Shape of Things To Come" (1979).
The Scottish Power Poppers best known song, it was a minor hit in both the U.K. and the U.S.
21. Milk'n'Cookies, "We Go On Dancing" (1977).
Another second (or third?) tier CBGB's band. M'n'C are about as sweet as it gets.
22. Badfinger (Joey Molland), Love is Gonna Come at Last" (1979).
The George Harrison of Badfinger, this is probably Joey Molland's finest moment. From the post-Pete Ham era Badfinger album, Airwaves.
Total Time: 1:05:04
Download it here:
The Birth of Power Pop: The 1970a (Revisited) - Disc Five
[EDIT June 6, 2011]Some of you are having problems with the last track on this disc. At some point I will reupload the whole disc, but in the meantime, here it is:
22. Badfinger (Joey Molland), Love is Gonna Come at Last" (1979).
If any of you come across any other corrupt tracks, please let me know so that I can fix 'em, thanks![END OF EDIT]