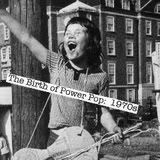 The first three volumes of
The Birth of Power Pop
are now officially the most downloaded compilations in the Burn and Shine library. In just one week, Disc One has been downloaded over 100 times, and Disc Two and Three are not far behind. Thanks, and keep coming back and spreading the word! Here's what some of you have been waiting for:
The Birth of Power Pop: The 1970s (Revisited)- Disc Four
When I originally put together the first three discs, I figured I had pretty much covered the 1970s, as far as Power Pop was concerned. I never meant for it to be a definitive collection. I thought of is as a complimentary compilation for friends who loved the Rhino comps, but maybe hadn't spent as much time listening to the fringe artists as I had. A couple of things have happened since I put it together that spurred me to tackle the decade again.
First, there was a pretty neat book that came out shortly after I initially handed out my compilation to my friends. Most of you finding Burn and Shine via other music blogs, I'm sure, have at least heard of John Borack's book,
Shake Some Action: The Ultimate Power Pop Guide
. For those of you who don't spend hours out of your week combing the Power Pop blogosphere, it is a pretty nifty little resource. I have discovered dozens and dozens of artists (and I am still discovering, actually) due to its pages. I haven't actually sat down and done the math, but I would guess about fifty percent of the artists featured on the next three volumes are completely new to me (discovered within the last three years). And many of the ones that were familiar to me, I only knew one or two key tracks (again thanks mostly to the Rhino comps).
Second, I discovered that just because an album is out of print or was never released on CD, it doesn't mean that it's not available. There are hundreds, no make that thousands of bloggers out there who are taking time out of their day to keep music available—transferring their old LPs, EPs and 7" singles into mp3s and sharing them with anyone who will listen. These guys and gals are doing us quite a service. Today's generation has almost no need to worry about whether or not an album is in print. That is, as long as he or she doesn't need a hard copy (I'm kind of old-fashioned that way, but I'll make do with a music file until I can purchase a hard copy).
Those two together, the Borack book and the wealth of great Power Pop blogs, are why you are getting three more discs in my Birth of Power Pop series. Not sure if I'll tackle it again, but I've got a feeling that there are still plenty of artists from the 70s that I have yet to discover. Stay tuned and as always, Happy Listening!
Track by Track Commentary:
01. Tim Moore, "Rock & Roll Love Letter" (1975).
Written by Tim Moore this song was taken into the top 30 by the Bay City Rollers a year later. It was also recorded by the Records in 1979. While their interpretation is better than the Rollers', the version included here is definitive.
02. The Liverpool Echo, "You Know It Feels Right" (1973).
Look, I'm not sure if the Flamin' Groovies knew about the Liverpool Echo, but that whole "let's party like it's 1964" thing the Groovies did in 1976, had already been done by this British band three years earlier.
03. Pezband, "When I'm Down" (1977).
Another band that needs the reissue treatment here in the States. I think their records are available as pricey Japanese imports. Not sure why this song, from their first self-titled LP, hasn't been disseminated a bit more.
04. The Beckies, "Right By My Side" (1976).
Does the name Michael Lookofsky ring a bell? How 'bout Michael Brown? Some of you are nodding your head right now, awesome. Those who are still unsure, how about the song
"Don't Walk Away Renee"
? Well this is the guy who is most responsible for writing it for the Left Banke, and he did it when he was 15! He was also in another band, Stories, that will show up on Disc Five.
05. The Rezillos, "It Gets Me" (1978).
More likely to be grouped in with the first wave of Punks, this band from Edinburgh always had one foot firmly entrenched on the Pop side of the ledger.
06. The Dodgers, "Love on the Rebound" (1978).
This is the title track to the only album released by the Dodgers-- an absolute must have for Badfinger devotees. This band featured Bob Jackson, who was a member of late-era Badfinger.
07. Nick Gilder, "All Across the Nation (The Wheels Are Rolling)" (1977).
When I first heard Nick Gilder, I was probably 10 or 11 years old. You'll forgive me if I tell you I thought "Hot Child in the City" was a Pat Benatar song. This was from his debut LP, just after his stint in the more Glam-oriented
Sweeney-Todd
.
08. Jook, "All Right With Me" (1972).
While Rock & Roll historians, would most likely put Jook in with the Glam Rockers of the early 70s, this track has more of a Pete Townshend thing going.
09. Secrets*, "Radio Heart" (ca. 1978).
This was supposed to be the Secrets*' second single (not sure what the asterisk means, I guess it's a . . . oh, nevermind) on Titan Records. I'd love to think it would have been a hit, but deep down I know better.
10. The Vipers [Ireland], "I've Got You" (1978).
Don't know much about these guys, except that they were from Dublin, and they put out one (I think) kick-ass single (look for the b-side on my next St. Patrick's Day Comp!).
11. XTC, "Statue of Liberty" (1978).
XTC is hard to pigeonhole into any one genre. Punk, Post-punk, Eccentric Pop, New Wave, Rock & Roll—call it what you will, but "SoL" is a shining example of Power Pop.
12. Vance or Towers, "Do Whatever We Want" (1975).
Do you remember the band that was playing at the prom in the film Carrie? (I didn't) Yup, you guessed it, it was VoT! They also wrote a fairly big hit for,
Barry Manilow that you may have heard
.
13. The Riptides (Australia), "Sunset Strip" (1978).
According to AMG, there are no less than seven artists listed as "The Riptides" (or some variation). This band was originally called the Numbers, then changed their name because another band from Australia was using that name. Confused? Don't be, just revel in the garage pop of this great record.
14. The Sidewinders [Boston], "Rendezvous" (1972).
Not to be confused with excellent band from Tucson, which later became the Sand Rubies, this was one of the first pure Power Pop bands to emerge from the fertile Boston Scene in the early '70s. It featured Andy Paley (later of the Paley Brothers, "Come Out and Play"), and the album was produced by Lenny Kaye. This track, might be the prettiest tune in the Paley oeuvre. It was later rerecorded in more of a
Phil Spector fashion by the Paley Brothers
, but I like the original version better.
15. The Numbers (Canada), "Sunday Afternoon" (1979).
One listen to this track, and you will be wondering how in the world it wasn't a massive hit. My best guess? I don't think it was ever released as a single.
16. The Rutles, "I Must Be In Love" (1978).
Some Power Pop snobs might scoff at the inclusion of the Rutles on a compilation celebrating Power Pop. After all, weren't they poking fun at the mighty Beatles? Maybe, but it was in a good-natured way, and hell, George Harrison didn't seem to care as he had a small part in the film.
17. The Names [Chicago], "Baby You're a Fool" (1977).
Fidelity-wise, this is probably the worst on the compilation. I snagged this from some kind blogger, who obviously did the vinyl transfer from his well loved 45. The Names only released one single. The A-Side, "Why Can't It Be", was featured on the Come Out and Play Rhino Compilation. This was the almost as good, B-Side. [P.S. If you have or know of a better rip and wouldn't mind sharing it, please contact me!!]
18. The Rich Kids, "Young Girls" (1978).
The Rich Kids' (Glen Matlock's post Sex Pistols outfit and Midge Ure's pre-Ultravox band) only long player, Ghost of Princes in Towers, [understatement alert!] could have been better. It does, however, contains two brilliant power pop songs, the wonderful title track, penned by Matlock, and this Midge Ure track celebrating . . . er . . . um, young girls.
19. The Hudson Brothers, "Long, Long Day" (1974).
I've said enough about these guys. See my post from
February 9, 2010
.
20. The Pointed Sticks, "What Do You Want Me To Do?" (1978).
The first single on Quintessence from the first Canadian band to sign to Stiff Records. They re-recorded this track for the
Out of Luck EP
on Stiff, in a slightly poppier fashion. Both versions are good, but this one gets the nod.
21. Fotomaker, "Two Can Make it Work" (1978).
The first Power Pop Supergroup, comprised of members of the Rascals and the Raspberries. Their sublime "Where Have You Been All My Life" from the same, self-titled album, is a Power Pop classic nonpareil, although this one is pretty good too.
22. Pete Ham, "Makes Me Feel Good" (ca. 1968).
I know, I know, this compilation is supposed to be about the 70s. So why did I include this Pete Ham demo from 1968? Three reasons: 1) Pete Ham is usually associated with the '70s. 2) It's a great song. 3) As Ken Sharp explains in the liner notes to the Ryko compilation,
Golders Green
: "Written in 1968, this song holds honors as being one of the earliest examples of the power-pop form in development—upbeat, sixties-inspired, melodic pop characterized by awe-inspiring chord changes and an electrifying, visceral punch."
Total Time: 1:04:16
Download it here:
Birth of Power Pop: The 70s - Disc Four